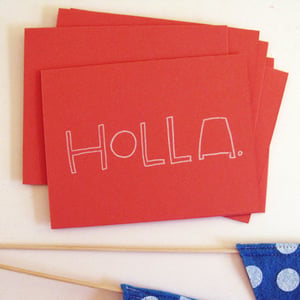 $

5.00
holla back, young'n. hand drawn type and gocco screen printed, this folded notecard comes with a white envelope and packaged in a clear plastic sleeve.
blank inside.
a2 sized, measures 5 1/2" x 4 1/4"
this design is available in five colors: papaya, curry yellow, pool blue, chocolate or beet purple.
handmade in minneapolis.