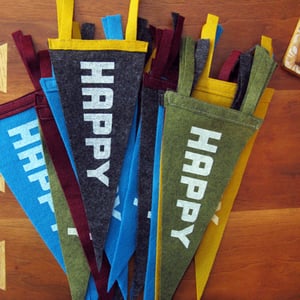 $

16.00
oh, happy day! (oh, happy day!) our old school-style felt pennant is a modern take on an iconic symbol of yesteryear. from souvenirs to football games, they don't make 'em like this any more. screen printed by hand with sewn trim and ties.
"that's cool, but what do i do with it?"
tack it to a board, tape it to a wall, tie it to a stick, attach it to a gift or (my favorite) clip + hang it with a vintage bulldog clip.
measures approx: 4.5" x 11"
wool-blend felt: 20% wool, 80% rayon
this design is available in five colors: charcoal, gold, peacock, burgundy, evergreen. your choice of solid or contrasting trim from the pull-down menu below. (not all pennants come in every color combination.)
handmade in minneapolis.