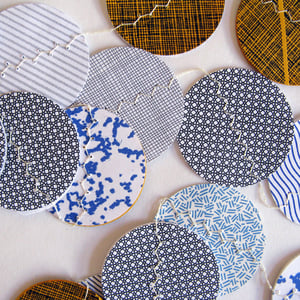 $

14.00
envelope insides = spectacular patterns!*
a string (or two! or three!) of recycled paper garland is great for any occasion from parties to holidays to everyday decor. all paper is found or recycled.
"what do i do with it? xmas is over!"
string across the ceiling, drape along a window, use on a party table, decorate a potted tree or houseplant, use in place of ribbon to wrap a gift which recipient can then reuse.
measures approx: 8 feet, circles are 1.5"
machine sewn with white cotton thread.
each garland varies slightly, as they are all one of a kind.
handmade in minneapolis.
*if you want to save your security patterns from the recycling bin, please donate to pinkshirtsandcarwrecks! shoot me a line, i'd be forever grateful.